---
01. WORK IN PROGRESS
Keeping Score (2024)

Keeping Score (working title) is a research project on experimental voice work in relation to scores, in the form of a duet between Putli Hellesen & Ole Marius Støle.

As a starting point we want to look at imitation as a tool for deconstructing emotions. We are inspired by the intricate physicality of emotions such as facial expressions, gestures, postures and of course vocalizations. We are curious what will happen when we take an emotion and imitate or recreate it in compartmentalized and mechanic way through scores.

We are interested in imitation to question the notions around authorship – where is anxiousness/ laughter coming from and who owns it? Does my anxiousness/ laughter come from me, or does it stem from something else, a cue, that I picked up from you? Or does it appear out of nowhere, a strong physical force that comes and goes.

---
02. OWN WORK
Wave Chasers (2023)

Wave Chasers is a series of pop- up performances which started during the summer of 2023 in Oslo, Norway.

The series explores the different soundscapes throughout the city´s various districts. Geared up with sound recorders and headphones the performers - Putli Hellesen, Natanya Helena Kjølås & Ole Marius Støle - enter a mode of hypersensitive listening.

Wave Chasers is a collective tuning and reimagination of public space. A manifestation of the underlaying pulses, aggressions, invasions and cliches that live just beneath the surface of our shared experience.

As the performers move through each district, they invite passersby to listen in on their headphones and join in the performance.


PRESENTED AT
Transistorfestivalen, Oslo

PERFORMERS
Putli Hellesen
Natanya Helena Kjølås
Ole Marius Støle

SUPPORTED BY
Transistorfestivalen

---
03. WORK IN PROGRESS
Tinglegheiter (2023)

Tinglegheiter (working title) is a collaborative project between dance artists Putli Hellesen & Natanya Helena Kjølås, which can be described as an investigation into the use of props in performing arts.

In the studio at "Montebøllo", we have begun to develop a moving loop that puts the various objects/props in the room in context with ourselves and with each other. We are interested in building things, in the functional and dysfunctional, and in the concept of "fake it till you make it".

In Tinglegheiter, we want to explore the potential of objects and how they can interact with each other and with us as performers. We are interested in how props can be used to create meaning, generate movements, and trigger chain reactions. Our interest in props stem from a desire to challenge traditional notions of what a prop should be and how it should be used.

---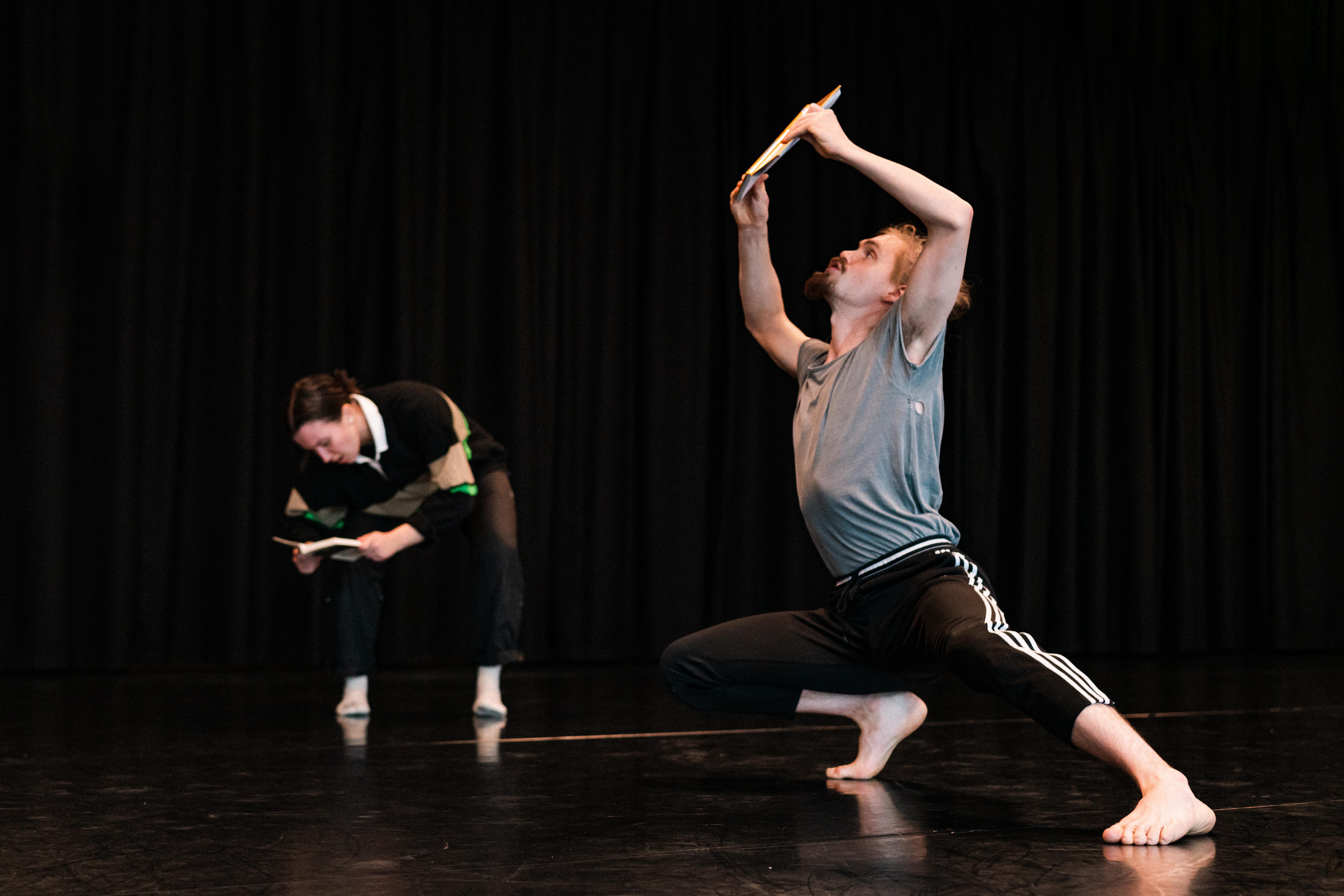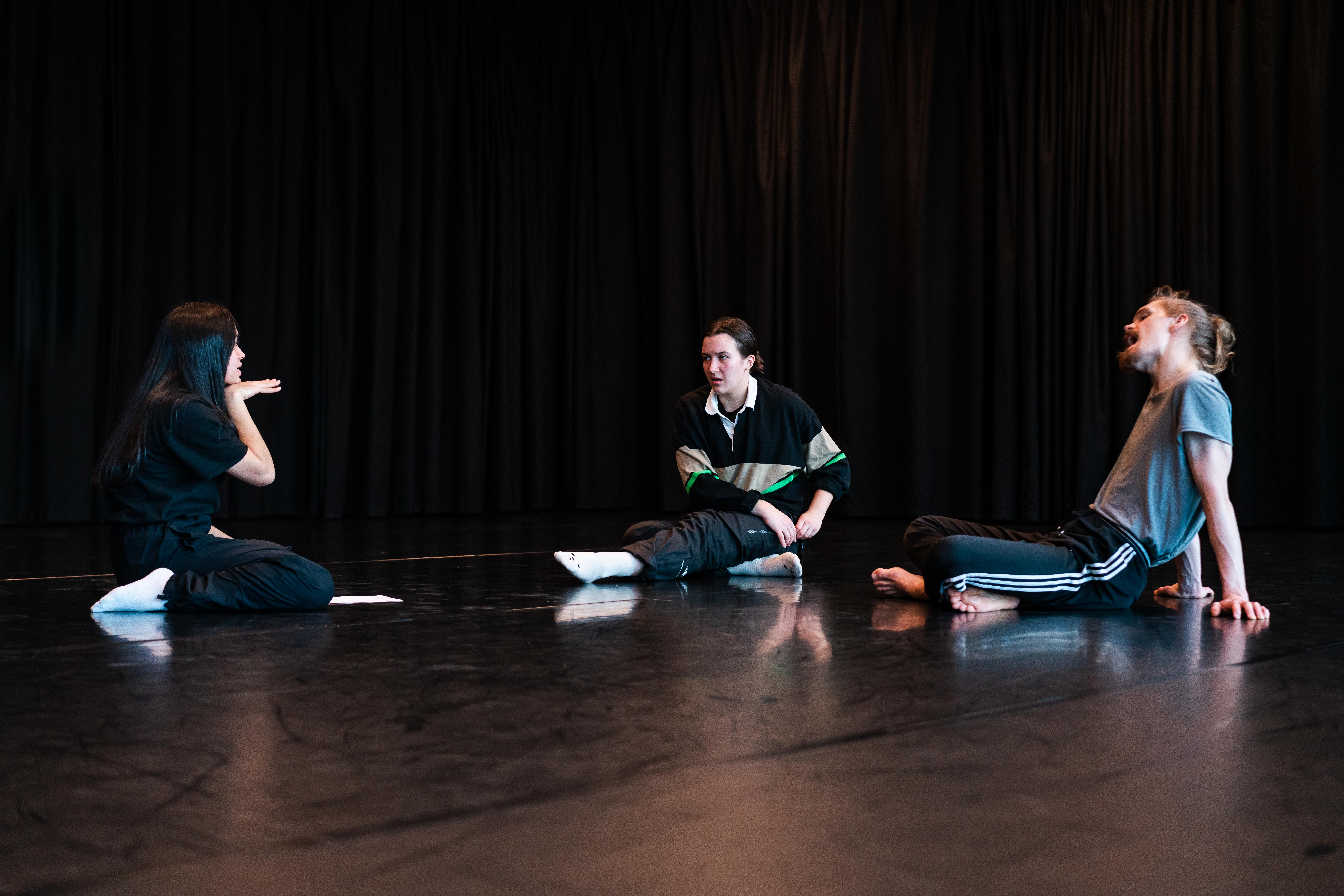 04. WORK IN PROGRESS
Dissociation Project (2022)

Dissociation Project (working title) is an exploration of dissociation and parallel dramaturgies. For me the interest lays within the idea of how the voice can have one dramaturgy, while the body has another.

As a Norwegian- Filipino artist, I have at times sensed a dissociation between my own voice and body, as if the voice I have (a Norwegian west coast dialect) does not quite line up with the Asian body I present. Dissociation Project is an attempt at adjusting or rather choreographing this distance between the voice and the body.

Through a series of body and voice scores, the performers - Putli Hellesen, Ole Maris Støle & Kristina Lvova Høydal - are forced to embrace contradictions and to actively look at multiple things at once:
–/ forced to acknowledge the multitude of parallel truths that co- exist within one entity, one body, one reality, one society
–/ forced to watch as the world is slowly caving in.

---

05. OWN WORK
Unfinished Busyness (2021)

Unfinished Busyness is my graduating solo performance in MA Dance from Oslo National Academy of the Arts.

It is a performance that wants to talk about a number of things as opposed to one thing, a rambling monologue sparked by an interest in demystifying the artist's process. It aims to reveal the building up to the performance event, unveiling the things and thoughts the dancer goes through up until the point they actually "do the dance".

In Unfinished Busyness I eccentrically tell the story of how it is to be a newly educated female dancer, it is part personal conversation between friends and part performed lecture - it is a confession of likes and taste, just as much as it is a result of choreographed opinions and fabrications.


PRESENTED AT
Oslo National Academy of the Arts
Cornerteateret/DanseRom

DANCER & CHOREOGRAPHER
Putli Hellesen

COSTUME DESIGN
Lærke Bang Barfod (MA Costume design KHiO)

LIGHT DESIGN & VISUAL DESIGN
Martin Myrvold

SOUND DESIGN
Petter Olav Støylen Wiik & Ole Marius Støle

EXTERNAL SUPERVISORS
Kristin Ryg Helgebostad & Solveig Styve Holte

INTERNAL SUPERVISORS
Torunn Robstad & Bojana Cvejic

SUPPORTED BY
Oslo National Academy of the Arts
Arts Council Norway

PHOTO
Yaniv Cohen